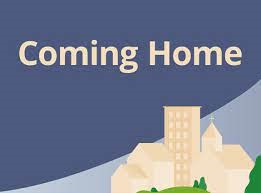 The Archbishops' Commission on Housing, Church and Community was launched in April 2019 with the ambitious remit of re-imagining housing policy and practice in response to the housing crisis. The Commission's first report 'Coming Home' was published in February 2021. As well as making recommendations for Government and other key actors in the housing market, the Commission was tasked with looking at what actions the Church could take, on its own or in partnership with others, to help tackle the crisis at local, regional, and national level.

The Church of England Birmingham is one of three dioceses across the country selected to pilot a local 'Coming Home' response. Thanks to funding from the Diocese of Gloucester, in January 2023 we were delighted to be able to appoint an experienced social housing professional, Alan Fraser, to help with the work on this project. He has been working hard for the past eight months to identify potential sites for social housing within the diocese both on Church-owned and on land currently in private ownership. Alan is also linked in with the national team to assess the feasibility of proposed developments and access funding.

The result is that we are looking at the potential to develop or purchase from developers new social housing in areas such as Winson Green and Handsworth. We have also connected with Housing 21 to explore developing older persons co-housing on a couple of church sites, at the invitation of the PCCs.

In light of the increasing profile that Alan's work has given us, the Church of England Birmingham has been invited to sit on the council-led Affordable Housing Delivery Board. Consequently, it is also involved in direct one-on-one discussions with the local authority about Church involvement in a range of housing projects and regeneration schemes in the city. We have also been approached by a charitable foundation an invited to submit a funding application to help extend and expand the work in Birmingham.

Alan is open to discussions with any PCC interested in exploring opportunities. Contact Dan Mayes for more information.