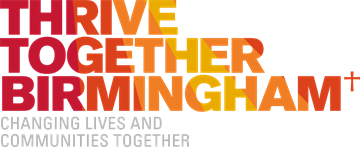 Thrive Together Birmingham (Thrive) complements the work of the Community Regeneration team by developing activities that:
Enable: inspire, encourage, help, support and equip people, churches and other organisations to tackle poverty, build community and participate in helping their neighbourhood and the wider city region to Thrive.
Grow: expand the number of people, churches, groups and organisations involved in tackling poverty, building community and helping their neighbourhoods and the wider Birmingham and region to flourish.
Sustain: help to strengthen and support the longevity of people, churches, community groups and organisations and their activities, so that they can continue in the longer term.
Amplify: enable the voices and experiences of those on the margins, those experiencing poverty, as well as those working on the ground seeking to provide support, to be better heard by people in power, by others in movement and by wider society. Much of this is about changing hearts and minds and, in some instances, this might involve advocating for changes in systems, policy and resourcing.
Find out more about Thrive's current activities in the Thrive Together Birmingham website.
For details of who we partner with in Sandwell visit Sandwell Churches Link website.