This page aims to signpost you to external learning resources to support your learning journey. It includes sessions that are both in person and online. We invite you to look around and click on the links provided to sign up.
If you would like to signpost a learning resource, please get in touch with the Pathways Team.

Way of Discipleship
Whatever our pathway into God's callings, we are first called to be disciples. God grows His church, we join in with His mission, but the commission Jesus gave us was to "Follow Him" and "Go and make disciples". Church of England Birmingham longs to see every Christian equipped and envisioned for whatever calling God has for them, but knows that our discipleship is the foundation for everything. 'Way of Discipleship' offers you a way to know you are being nurtured in your faith, and a resource you can use to develop others.
The Church of England's resource for growing confident disciples is called 'Way of Discipleship' and is on this website: wayofdiscipleship.org
If you would like to explore more, or have support/training in running one or more of the courses, you can join a monthly online session called 'Making the most of Way of Discipleship'. The sessions are one hour, but with the possibility of ongoing mentoring/training according to your needs.
Forge Taster Evening - Taking Risks in Mission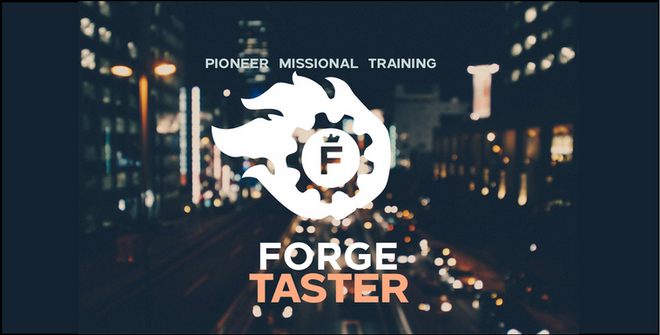 Click the image above to find out more.
FORGE helps equip & mobilise the people of God to participate in the mission of God. It runs as an 11 month accessible and affordable programme for people from all walks of life - Christians growing in their faith and passionate about exploring ways in which they can more fully engage in missional living. Join them online for one of these free 'Taster Sessions' as they explore 'Taking Risks in Mission'
E-brochure of the Forge Missional Training Programme here
Watch a promotional video here
Sign up here
Taste Life - Hope for eating disorders

Before the Covid pandemic, it was estimated that 4 million people in the UK were struggling with significant eating issues. Requests for help in the past two years have rocketed as the fallout from Covid puts additional pressure on mental health. One way the church can serve their communities in this area is through the accredited, 8 session tastelife community course.
Urban Saints 'All Inclusive?' Additional Needs Training

A series of additional needs training programmes from Urban Saints are available to help you make what you do more accessible, inclusive and a place where everyone belongs. Each programme includes an A4 workbook sent in the post, a playlist of helpful videos, a live Zoom training session and a follow up email with additional resources.
To find out more about the four training programmes click the link here.
First Aid Training from NEW Training
All funded courses are free to those in receipt of benefits and NEW Training offer discounted individual places for those in charities/churches. For example, a full day First Aid course would cost £55 rather than £75. This is accredited by an external awarding body (Qualsafe).
If you would like an awareness course for volunteers in your parish, NEW Training can take groups of up to 15 for a 3 hour training tailored to your situation. So for example, you may want Food Safety and First Aid for a café or drop-in centre, or Food Safety and Paediatric First Aid for a Stay-n-Play. The cost for a group is £250. Awareness courses are not accredited but participants leave with a certificate of attendance.
For more information, please be in touch with Natalie via the NEW Training contact page.