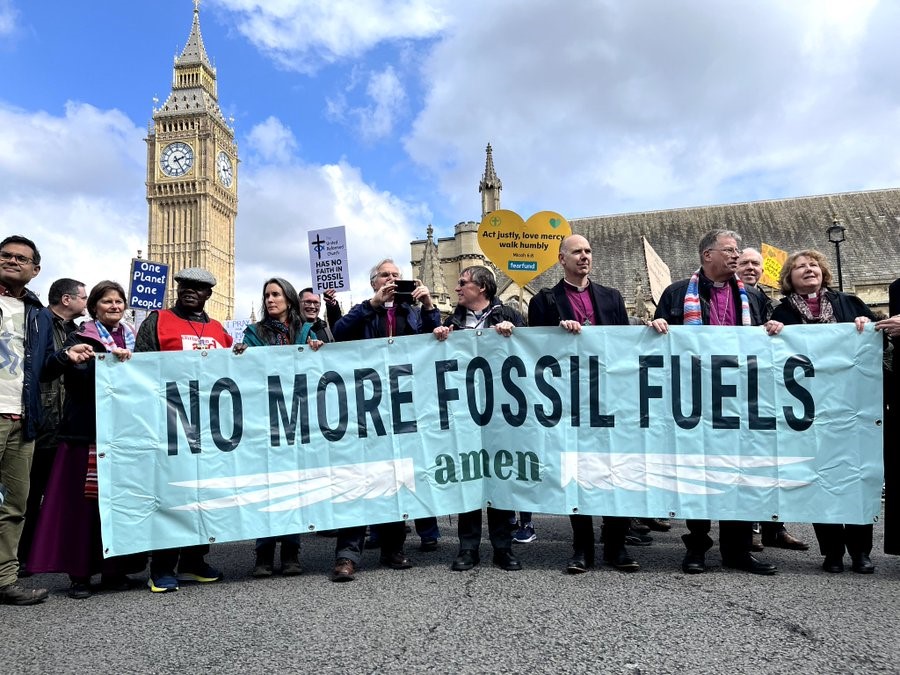 'No more fossil fuels, Amen!' was the clear rallying message from over 1000 Christians as they marched on Parliament in April, making a clear stand for climate change and God's creation.
On Friday 21 April 2023, Bishop Anne Hollinghurst and CofE Birmingham colleagues joined senior church leaders, NGOs representatives and Christian environmental campaigning groups at 'The Big One' protest, in London.
Bishop Anne joined the People's Protest with colleagues from CofE Birmingham, saying:
"As Christians we are called to work for justice and care for creation. Our modern world, built on the burning of fossil fuels is damaging the good creation God has given us to tend, with its poorest communities suffering most across the world."
"We must focus on achieving net zero targets and acknowledge this protest's strength of feeling, especially against the opening of a new licensing round to explore oil and gas in the North Sea."
In February 2020, the General Synod of the Church of England committed itself to become carbon 'net zero' by 2030. This important agenda is being taken forward by CofE Birmingham locally and across deaneries, led by the CofE Birmingham's Environment Board.
A protest letter was delivered to Shell plc (an oil industry company) from heads of various Christian environmental campaigners on Friday 21 April. In summary, the letter called on Shell to stop all new fossil fuel exploration and extraction immediately.
For examples of how some of our parishes have already taken action, please click here.
And if you have been moved to act, you can help by reducing greenhouse gas emissions in your home and community. For 10 ideas of what you can do about Climate Change, visit CofEB Caring for the Environment page, and let us begin protecting and repairing nature together.